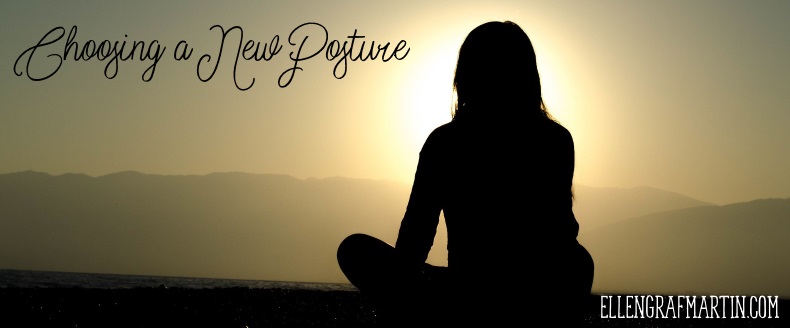 In my early 20's, I started to learn about the spiritual discipline of posture, and it's serving me well as I continue to learn about what to hold and what to release, and how to turn my hands heavenward. I've spent a lot of time being lectured and educated on posture and low back issues – the pelvic tilt and I have become solid friends. (Apparently it's not healthy to have an hourglass figure with your bum sticking out, who knew?) I'm so grateful to be sharing about this on my dear friend Tina's blog. Excerpt here:
What no one tells you about being blessed with an hourglass body shape, is that a small waist & larger spread of hips can be awfully hard on the back. When I was in my late 20's, my love of high heels, the kind that unconsciously make your body sway and adjust to stay upright, caught up with me and landed me on the sofa, immobile. When I went for physical therapy, the therapist started drilling the importance of "pelvic tilt" into my head. Apparently, my bum wasn't actually supposed to stick out like that, however attractive some more recent celebrities may be trying to make it look. (My husband, admittedly, was disappointed.) At Pilates: pelvic tilt. At the osteopath: pelvic tilt. I should be an expert at it now, with having to set aside most of my beloved heels, and even change my tooth brushing and sleeping habits to accommodate that slight tucking of my lower abdomen toward my spine. (I'm tilting as I type this, reminded that I am supposed to do it at all times).
Please hop over and read the rest!
And, if you like this, you might like "On Pressing Pause".