Like many young girls with "get 'er done" type personalities I was often called "bossy" or "pushy" by friends and family. This, and many other messages, reminded me that girls should be seen and not heard; and that nice girls should not have strong opinions. Since my personality happens to be balanced by it's opposite –the Sensitive of DISC Personality types–I soon learned to develop that nurturing side of myself and to silence the boldness…To silence my voice.
We know this is a common pathway for girls and women. By age 6, girls are more likely to think boys are smarter – all evidence to the contrary. Our self esteem peaks at age 9 and plummets if not intentionally rebuilt. Storybooks tell us we may be either the pretty princess or the wicked witch and that the mirror, mirror on the wall tells us which we are. Group dynamics teach us that standing out or speaking up makes us more likely to be chopped down – a common phenomenon sometimes known as Tall Poppy Syndrome. Our own internal angst, our sense of self, and our leadership style, cannot help but be affected.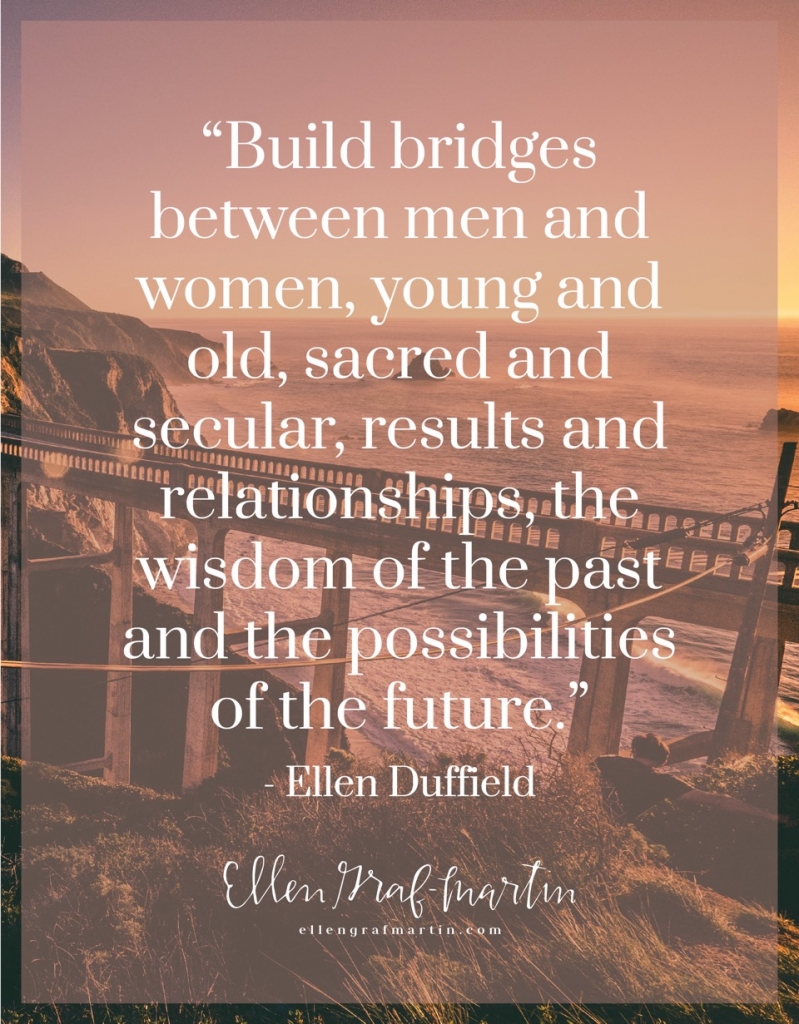 I say the two sides of my personality were balancing each other but in reality it was more like a war between two opposing sides. I didn't always get the outcomes I expected from strategies of feeding one side and starving the other…Sometimes a part of us that is starving refuses to shrivel up. It comes out fighting, instead.
Enter the anger I felt as part of my twenties and early thirties. Anger at loss of loved ones (a form of grief, I now know). Anger at the state of the world – the birth pains of a heart for reconciliation and social justice. I know I am not alone in this.
And so I flip flopped back and forth between pastoral care and "take the next mountain" styles of leadership. In search of something that felt authentic, I read countless books, observed countless wise leaders, and explored countless varieties and approaches. Then recently, I began to think more deeply about Bridge Building Leadership.
Building a bridge where once there was tension within myself. Building a bridge between what is and what could be, personally and in organizations and cultures. Building Bridges between men and women, young and old, sacred and secular, results and relationships, diverse perspectives, the wisdom of the past and the possibilities of the future. Bridge Building Leadership.
Turns out Bridge Building Leadership requires a whole new set of skills and mindsets. Skills of collaboration, systems thinking, polarity management, and partnership. Growth and learning mindsets. Humility. Respect. Dignity. True dialogue in the Peter Senge sense – willingness to both advocate well and listen deeply – the two sides of my personality brought together at last.
In an era when many of us long to see wiser, stronger, more sustainable models of leadership in business, education, politics, health care, religious institutions and peace keeping perhaps Bridge Building leadership has finally come of age. I, for one, am ready to embrace it.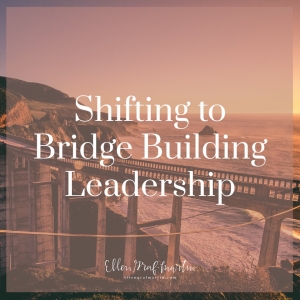 ---
Ellen is the Director of the Leadership Studio at Muskoka Woods. Her life work includes the ups and downs of 36 years of marriage, raising two children, and co-founding an international leadership development initiative; 30 years of organizational, camping and church leadership experience; and ongoing involvement in research projects including an international project about women in leadership… and the joy and heartache such journeys provide.

A Master Mentor with the Real Power Network, Ellen is also an author, and a lifelong student-teacher. She loves to see women grow in their leadership competence and confidence. Her identity as a mother and grandmother is deeply important to her and much of the work she does is for these future generations. She has two children and six grandchildren, all of whom live near her in Muskoka, Ontario.

About Ellen's book, releasing March 8th, 2018 – Brave Women: Building Bridges to Transformation, a Compendium. 

About The Leadership Studio.

About Next Level Leadership.

Learn more about Ellen's Picks!