Earlier this month, I was so honoured to share about how our friends helped my husband and I leap into marriage in February, 2008. It's a principle I keep learning – how we need our friends to come alongside us, but also how we need to come alongside others.
In 2015, I invited some women from across Canada – women a bit like me, who serve in various leadership roles in church, non-profit, ministry and business – to join a book club of sorts. I called it Ellen's Picks, and it's been a remarkable gift to me, and (from what I hear) to others for the last couple of years. Honestly, when I sent out the invites, I didn't know if anyone would even reply, let alone say yes to trying out this crazy idea. But one after one answers came in, and within 48 hours almost ever space was taken! Amazing! Although the idea had been percolating for a while, Ellen's Picks was really born when women, with busy schedules just like me, who would quickly become friends, said yes to joining a community because they wanted connection.
To say I'm honoured to walk alongside these women is a vast understatement. They lead in so many ways across Canada: the church, ministries and non-profit organizations, business, and media, to list only a few. They lead in their families, their communities, their neighbourhoods, our nation and around the world. They're also remarkably real. I've been committed to creating a safe space for processing and growth and connecting in this Ellen's Picks community, and it has been encouraging and inspiring to see who genuinely shows up.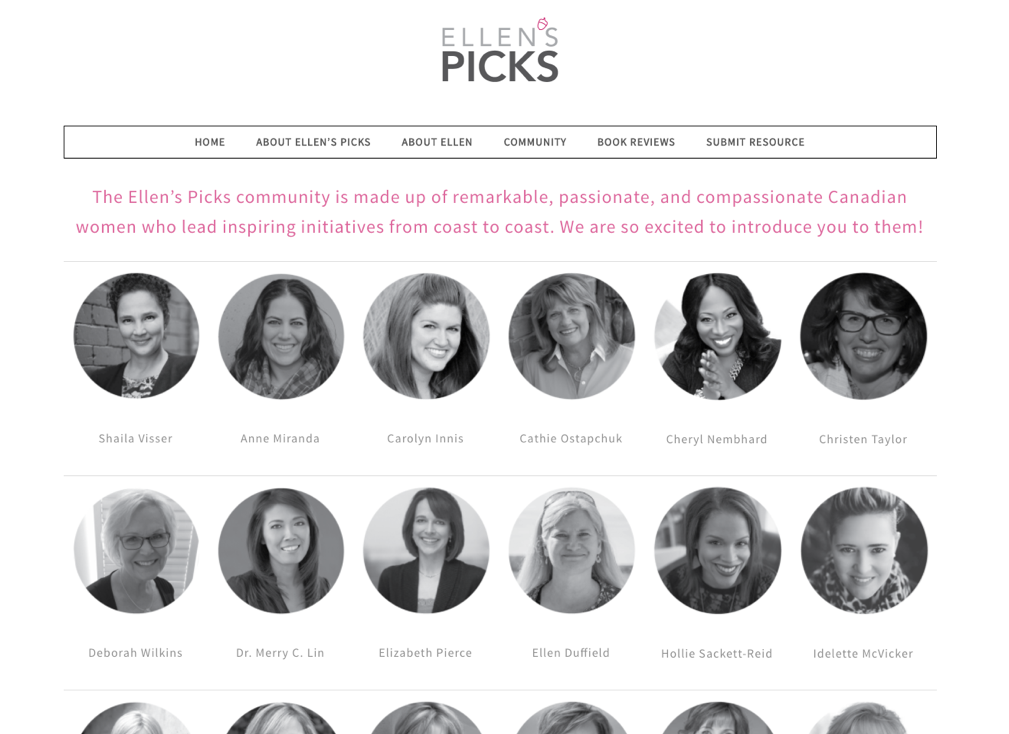 I've learned that it is absolutely true that leaders are readers, but possibly more accurate that women who lead are connectors. Connecting with ideas, with people, and with issues that matter. It has been amazing to host meet-ups in Guelph, Cambridge, Burlington and Vancouver and measure the events' success by the length of the linger (a measurement tool shared by one of my EP friends.) When women truly connect in a safe space, it seems they hardly want to leave.
I'd so love you to meet these women I now call friends. Click here to see their profiles. (Aren't they gorgeous?) These photos show a lot of joy, and their short biographies tell only a little of their stories – I hope you get to meet them in person someday too!