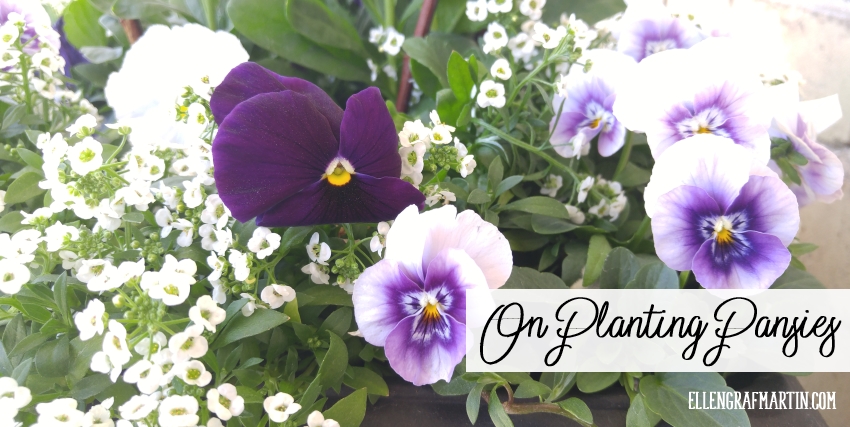 I've been quiet in this place lately. It's not that I haven't had words, but that I've had too many.
This past winter was full of words. Of confusing words. Of hard words. Of saying words that needed saying. Of saying goodbye a hundred times, each time not knowing if it was the last word.
Too many pieces that needed sorting out. Too many scattered thoughts that needed space and time and the opportunity to land, like a life-sized game of 52 PickUp.
On the first day of Spring, my Dad's words ended.  (And friend, it is an understatement to say he was a man of many, many words). I don't believe that the timing is an accident.
It's been a month now, a month of spring. A month of pushing through the dirt and sad and the "ugly season" . On Friday, the ground was thawed and I decided it was time for pansies.
In my world, pansies are a symbol of hope. Pansies are my slightly pacifist annual war-cry on winter. Every single year, when the maple sap flows and I'm completely fed-up and DONE with snow and ice and misery, I buy pansies and I plant them everywhere. So, when the sun shone warm on Friday, I jumped in the van and drove five minutes out to the country in search of these tiny, cheery bits of life. A sign promised that I'd find pansies on a sideroad farm. I had no idea where I was going until I pulled down a long, treed driveway and saw Old Order Mennonite ladies pushing carts of seedlings from one greenhouse to another.
Two flats of little pansy faces landed up in my trunk, and some of the sweetest Alyssum tagged along. Glory. Spring.
I kind of went crazy, and there are now ten pots of pansies sitting outside our house – some large, some small, and pansies decorate three friends' houses too. Every time I look at them, I see life, even though the rest of the landscape (like my flowerbeds that need a serious cleaning-up) looks relatively dead.
It's appropriate that this season of life matches the season of the year. Although things appear bleak, there is life. Full, amazing life, right there under the dirt. The day of the epic pansy-planting, we planted peas too, Sweet Girl and I. I told her that she needed to press them, just lightly, tucking them under their dirt-blanket, give them some water, and that one day we'd look out and they'll have woken up.
Just like us.
Sometimes, the dirt blanket is heavy, and the pressure to live is intense. Kind of like the bursting out of the seed and pressing through to find the light. On Friday, I woke up and remembered life. The dirt is still there, and it'll never truly be all gone, but I poked my head up out of it because the warmth of the sun told me it was time.
And Dad? Well, this spring he's more alive than ever. We know it. We're still in the 'dirt' of earth, but he's not. So, I'm planting pansies as reminders that there is so much life yet to be lived, now and forever.