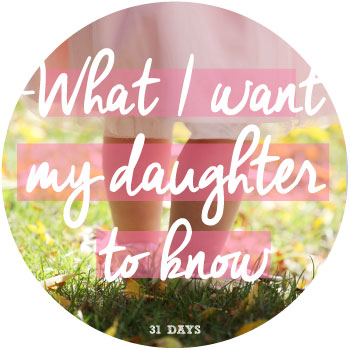 What I Want My Daughter To Know…
Oh friends, as I watch my daughter grow and change and observe how shockingly fast all the children around us grow up, there are so many things I realize I want her to know, although what it seems I say minute-by-minute sounds mostly like the parent-version of a traffic cop.
In the midst of it, I'm afraid that I might forget to tell her something terribly important, or neglect teaching her a lesson that just slipped by, simply because the days on our calendars zip past and the hours between waking and sleeping seem far too short to pack it all in. Or worse, teach her lessons silently that I wish she'd never picked up on.
So, this – in the busiest of months – is my feeble attempt to record 31 things that I really want this child of my heart to know as she ventures out into our world. This world that can provide unending opportunity, and at the same time chew up our dreams and hearts and value. These thoughts will not be perfect, and I'm sure that I'll want to rewrite them and think of 31 more things over and over again. They will, however, be real. My hope is that, beyond being something I can share with my Sweet Girl one day, they encourage your heart as a parent to write and share your own 31 Things.