Last year I had the opportunity to connect and work with Barb Rudoski through Women's Journey of Faith, and when I launched our Ellen's Picks community last fall we linked arms in new ways. I have so enjoyed her sense of humour, her joy, her perseverance, and her love for her family. She lives a full life, and her leadership roles are many, so it's amazing to me how she balances all of them with enthusiasm. I'm so glad to introduce you to Barb!
E: What is your current title, and where/who do you currently serve?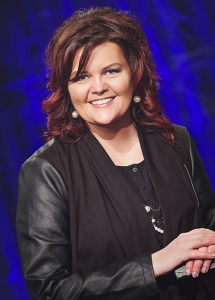 B: My husband Brent and I are senior pastors of Faith Alive Family Church in Saskatoon, SK. I'm also the Producer of our TV program, the Faith Alive Show. I'm manager of the Faith Alive Band and over see the Children's Ministry Department at Faith Alive. In the past few years, I've become involved with Women's Journey of Faith and am currently the Vice President.
What is one you're grateful for this week?
My daughters, Bailey and Briona. I am so excited for them as this week I have one daughter, Bailey, writing Christian songs in Nashville, and my other daughter Briona, on a mission's trip to Costa Rica. It's a mother's dream, to see both doing the work of the Lord. My heart is overwhelmed with the glory of the Lord.
Who has been really impactful in your journey of leadership?
The one person that has impacted my life the most is my grandma, Dorothy. She was the one that led me to Jesus. God used her to show me a better way and because of that I've never looked back on my old life of selfishness and pride. She has just gone to be with the Lord and I can see her dancing in His presence. I too want to be a light to my grandchildren and to those around me. Love you Grandma.
What is an accomplishment you're really proud of?
I'm most proud of my children, as they all serve the Lord. This wasn't always the case, as my husband has a son from another marriage. My stepson, Brinn, didn't want to serve the Lord as he was hurt and confused from the divorce. We prayed long and hard, cried lots, and fought hard for him. I can now proudly say that today he loves the Lord and serves at our church.
What is something you wish you could tell your 20 year old self?
Good question! Life goes by super-fast, so make the most of every day and every opportunity the Lord brings you, pray more, love Jesus more, give more, plan for retirement, don't eat that cookie, don't stress over the small stuff.
What's your favourite reading snack- and what is in your reading stack?
I don't really have a snack, but pour a cup of tea and see me smile. My reading stack right now is… Fashion to Reign – Kris Vallotton, Authentic Faith – Gary Thomas
You can find out more about Barb and Faith Alive Church at http://fafc.ca/about/our-staff
Barb Rudoski
Barb came to Faith Alive in 1987 to attend Bible College and immediately began helping wherever there was a need. As a co-pastor with her husband, Barb excels at mobilizing and motivating the body of Christ to step up, take their place, and fulfill their potential in the Kingdom of God. Barb has a strong desire to train children, even at a young age, to be mighty warriors for God. She is compassionate, personable, energetic, fiery, and is totally convinced that nothing is more important than giving your life completely to the advancement of God's Kingdom. The Rudoskis have 3 adult children, a daughter-in-law, and one grandson, who are all actively involved at Faith Alive.