A number of years ago, I met up with Hollie over coffee, simply because she wanted to get to know other women working in media in Canada. It was a REALLY good coffee, and we've tried to keep up ever since. I love Hollie's humility, energy, insight, entrepreneurial spirit, and enthusiasm – she's a delightful firecracker, friends. You should know her too, and what she's been up to lately (hint: she wears a lot of hats and is a bit sleep-deprived these days). I'm so glad to introduce you to Hollie!
Ellen: You juggle a lot of titles and responsibilities, these days – tell us about how you serve and who you serve.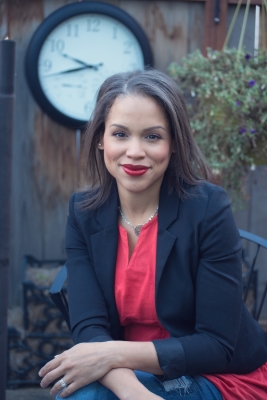 Hollie: First and foremost, these days the title/responsibility that trumps them all is 'mommy'. I recently had my second child and so that is the bubble I find myself in. Even while being in this sleep deprived bubble, I am so pleased to know that I have, and will be again soon enough, be able to get back to serving those around me in the Canadian Christian music industry and for the listeners who tune into 105.9 Shine FM (Edmonton). I am APD and radio announcer for 105.9 Shine FM. I host the morning show along with Johnny Rocket. Our listeners are the best and it has been amazing to serve them through the content aired through what we speak about and the music we play. I love being able to connect to Edmontonians in such a meaningful way all the while wearing sweatpants and ponytails. (A perk of radio… No make-up required!)
I also work with artists who want to have their songs on the radio via my company Ten16 Entertainment. We help artists through all stages of a radio single release, including the promotional distribution of the song, regular follow-up calls, and promotion. We can also help them by providing consultations and helping build their resume through the national chart we release called The CCRC, should their song chart. I have had the privilege of working with Dan Bremnes, Jodi and Chris of Love & the Outcome, Tim Neufeld, Jon Neufeld, All Sons & Daughters, Rend Collective, Manafest, The Color, The City Harmonic and more!
Most recently, I started a non-for-profit called WIMM Canada. I have noticed a bit of a disconnect between women in Christian music and media and I wanted to see how I could serve them better as well as create a community of women in unity who are Christians and utilizing the various facets of media and music to reach others of the Lord. I have had many conversations with women looking for support in their career and I pray that WIMM Canada not only helps them with their ministry/careers but also helps them feel connected, supported and encouraged.
What does a normal day in your life look like?
My normal day pre-maternity leave would start at 4am so that I can arrive at the stations for around 5:15am. Johnny and I hit the airwaves at 6am and The Morning Spin goes till 9am.  After the show, I do my APD tasks and dash home to get my daughter for 10:30am and take her to her day home. Then it's naptime… For me! Around noon, I kick off part two of my day where I promote the songs Ten16 Entertainment is working by making calls, sending emails and putting together promotional plans. Then it's time to pick up my daughter, make supper and get her to bed. Depending on my energy level, I work on the various things that WIMM Canada has on the go. I am blessed to have a fantastic team that makes WIMM Canada what it is. They have been a huge support. Of course not every day is 'normal' and all three things end up co-existing during the same timeframes or during commutes, but it works.

What are you most passionate about these days?
I am super excited to see what God has for WIMM Canada. I believe that as a woman, having a support system is key. I don't think we were designed to be lone islands, but rather in a community and it's time to get back to that. I am so encouraged by the stories the ladies have shared over these past couple years. These are stories of how God is working in their lives, their struggles and what they've done to overcome them, or if they are in the thick of a valley, that they are pushing through and how we can support and pray for them. I was always saddened to see woman in music and media put their career on hold to raise a family and then to hear that years later they felt that they were missing something in their lives. I know for me, I wasn't 'built' to stay at home. I get such joy out of working in radio, working with artists and finding new ways to support my peers that to cut that out of my life to focus on my family would leave a hole in my life. Some woman feel passionate about staying at home and that is amazing. I have so much respect for any women living out their passion no matter what that looks like. For the women who are like me and don't fit the "traditional" model, I want to them to know it's okay to live out what God has called you to do. Life is about seasons, so we have to be sensitive to that and no one can judge you for what you decide to do if it is what God is calling you to do. Do it with boldness and confidence. Hopefully, no matter what their current state in the industry, they will find a support system via WIMM Canada.

What has been your favourite leadership role?
I love connecting people. I may not be too good at self-promotion (you know, what is rule 101 for having a company :)), but I just really love encouraging people to connect and create something bigger than what they could do on their own.

What are you dreaming about for the next twelve months?
Honestly, the literal next 12 months will be, for me, a season of looking after my little ones and planning for 2017, so I can hit the ground running once my maternity leave is done. I love what I do, but I'm learning it is important to take steps back to reflect, evaluate and make a plan to move ahead.

What have you appreciated most about Ellen's Picks?
Where do I start?!?! At first, it was the fact that someone I have respected for years (yes, that's you Ellen!) would even think of me to be a part of this! It has encouraged me to read books I wouldn't typically pick up to read. I am amazed that the books that have been selected have been books that I needed to read. I know it's a God thing! Every time I cracked open a book it would have encouraging words speaking to me were I was. It was what I needed to hear or ideas as to practically move to the next phase in whatever it was I was facing.

What has been your favourite pick?
Simply Tuesday and the Fringe Hours really resonated with me and spoke to situations I was going through professionally and personally, but I also really liked Bathsheba. I LOVE learning more about women in the Bible. I mean the fact they were event mentioned is amazing enough! It's interesting how many women are mentioned in the Bible that we don't typically learn about at church, so this book was right up my alley. It gave me insight into her life not through my Western cultural goggles, but through the culture in which she lived. It really brings to light just how terrible the situation was for her. It also made me think less of King David in one sense and more of God. If God can forgive David and call him a man after His heart after what he did just goes to show we serve an amazing God with a capacity of love I will never fully understand.

Why is WIMM partnering with Ellen's Picks?
This was a no-brainer for me. 1) We have to keep learning to grow as leaders and the best place to do that is through books. 2) The books have almost a year track record of been quality reads that speak to us as women leaders and that is who WIMM Canada is for; women leaders in their various industries. 3) Being able to have some free stuff for our members doesn't hurt. I want the women who become involved with WIMM Canada to know we appreciate them.
Hollie Sackett-Reid
For the past decade, Hollie (Taylor) Sackett-Reid has worked in the Canadian Christian radio and music industries. It was her passion for positive entertainment that initially led her to AM930 CJCA (TouchCanada Broadcasting), It was here where she had the opportunity to help launch 105.9 Shine FM, but in 2006, she began looking for ways to learn more about other areas of the Canadian Christian music industry.
During Hollie brief break from her radio career, she took an entertainment business management course at Harris Institute for the Arts (Toronto), managed artists, and worked for an independent radio promotion company.  It was here that she was able to incorporate what she learned from both the radio and entertainment industries.
Since then Hollie has launched her own entertainment promotions company called Ten16 Entertainment.  Ten16 Entertainment is a company committed to the education and promotion of artists pursuing exposure in the Canadian Christian music industry. She is also back working at 105.9 Shine FM on The Morning Spin with Johnny Rocket and is the Founder and President of WIMM Canada.