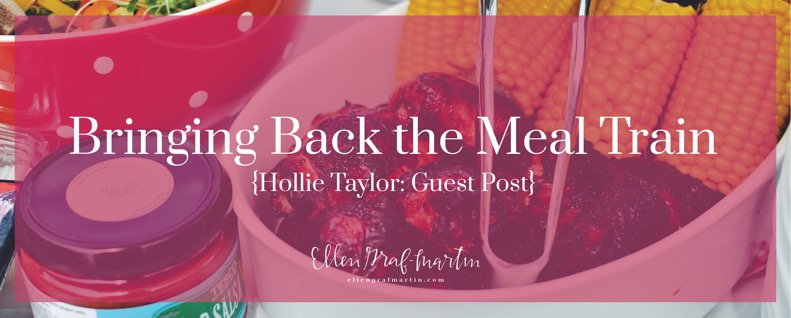 I imagine a world where we get together and build each other up as women of God both personally and professionally. 
Not 30 years ago, church basements were wafting with aromas of egg salad sandwiches, Aunt Mildred's potato salad, and an assortment of cookies and squares from the finest of family kitchens. The church family was an extension of the families who were in the church. Women's groups were bustling and the meal train would be fired up whenever someone had a wedding, new baby or a funeral. Now the past may be clouded with my near mid-life, rose-coloured glasses, but there was a feeling of community and togetherness.
As I prepared for the birth of my first daughter, I looked around and wondered where my meal train would be coming from.
I had somehow found myself disconnected and I didn't have any special situation that would require a gofundme campaign. I was just a regular ol' person looking into an uncertain and unpredictable future, polar opposite from what I had envisioned. I looked for examples of women actively working in radio with a young family and was unable to find anyone I could turn to. This launched me into a desperate search of seeking out women to help me enter into this next phase of life personally and professionally.
Little did I know, my prayer to find Christian women in the entertainment industry, connect with them and them with others, so the next generation wouldn't have to, was soon to be answered.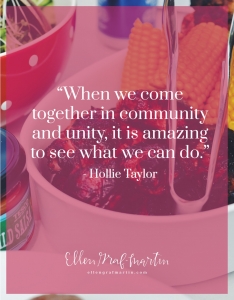 My reintroduction into radio-life after found me face to face with Beth Bacall. She is a radio personality coach, but her influence doesn't stop there. It was her passion for serving and growing Christian women in radio that inspired me to push myself professionally. And seeing how active she was in creating a community of women in radio who encourage, support and learn from each other that helped me better articulate what had been on my heart to see happen here in Canada for women in music and media. It was an honour to have her speak in Edmonton at a WIMM Canada event in 2015, I was so moved to have her pour into women from my own backyard in such an inspiring way.
I am even inspired by what is going on outside of the Christian community. I've long been a fan of Geena Davis. I loved her in 'A League of Their Own', which fed my obsession for all things 'girl power' before the days of the Spice Girls. But now, as a career woman with family, it is her off-screen initiatives that inspire me. Geena noticed a lack of female representation in children's programs. Instead of doing nothing or writing a strongly worded letter trying to spark change, she took the ball into her own hands and opened the doors to Geena Davis Institute on Gender in Media.
We learn through her work that sometimes change takes time.
We are seeing 14 years of effort starting to make positive headway. We are witness to a real life workplace example of women in media working together to not just work hard in hopes of being seen, but by supporting one another and petitioning on behalf of women to increase the visibility and jobs for other women, and making this change a reality.
When we come together in community and unity, it is amazing to see what we can do.
Since then, the more I see women like me in Canada, the more I realize that we are not alone. Perhaps the loneliness many face as leaders or working in male dominated industries is a lie, because we are not alone. We just need a vehicle to get to our specific group.  It is so important to connect whether it be through your local church, a Gather Women event or if you're in the entertainment industry, in front or behind of the cameras. We are at the beginning of this journey and there are many more leaders and great women to discover in our vast country!
I am so excited to know that the meal train is making a comeback.
---
From an early age, Edmonton-born Hollie had a passion for music and radio. It was this passion that led her to take the Radio & Televising Arts program at NAIT.  Since then she has worked in various roles and cities in the Canadian radio and music industries. It was her desire for positive entertainment that initially led her to AM930 CJCA (TouchCanada Broadcasting in Edmonton). This is where she had the opportunity to help launch 105.9 Shine FM (Edmonton). In 2006, she began looking for ways to learn more about other areas of the Canadian music industry.

During Hollie's brief break from her radio career she took an entertainment business management course at Harris Institute for the Arts (Toronto), managed artists, and worked for an independent radio promotion company.  She was able to incorporate what she learned from both the radio and entertainment industries and apply them to real life, specifically the Canadian Christian music industry.

Since then, Hollie has launched her own entertainment promotions company called Ten16 Entertainment.  Ten16 Entertainment is a company committed to the education and promotion of artists pursuing exposure in the Canadian Christian music industry. She is also now teamed up with Johnny Rocket on 105.9 Shine FM's morning show, The Morning Spin, and podcast, Why Me Project.  Hollie is also the Founder and President of WIMM Canada.

Learn more about Ellen's Picks!