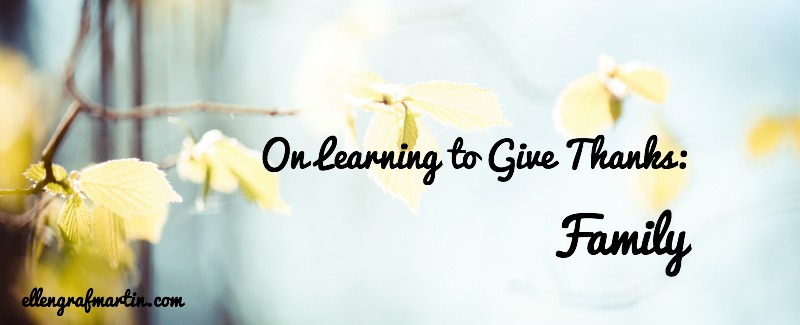 Recently I realized that, as the calendar turns to October, my mood changes to cranky as I look ahead to long days of dark and snow and cold and ice (and misery) in my adopted homeland. (Dear, dear Ontario, I love you, and you gave me blessed husband and sweet baby, but your winter lasts just so very long that I'm a little unhappy with you.)
I used to love October. I miss looking forward to it, honestly. But a couple of long winters and too-short springs have left me cynical. Sure, the changing leaves are pretty, but really, they're harbingers of November snowfalls, six-foot snowbanks, ice storms, slippery sidewalks and frozen faces. To reclaim October, I'm committing to give thanks instead of complaining. Here's hoping that November won't look quite as gloomy, not because the weather is any better, but because my attitude has been changed by giving thanks!
The first thing i'm giving thanks for? Family.
Last week my cousin posted a photo of his mom, my aunt, my mother's youngest sister, remarking about our resemblance. And it's there and it's a bit baffling sometimes. I'm thankful for it though, because it reminds me that i'm part of this group of people, all with unique, individual personalities, giftings, challenges, experiences – all linked together, called to gather under shared DNA and lineage. I am grateful to love the family that I come from, knowing that not one of us is perfect, but we were created to be part of each others' lives in some intangible way.
Families are a weird thing though, aren't they? Sometimes we want to be together, other times we would choose to be anywhere else. Some of us are looking forward to family dinners this Thanksgiving weekend, others are feeling remarkably alone or detached from anything resembling a picture-perfect holiday. Sometimes it feels like an awfully artificial construct, called into relationship with people that it might be we share very little with other than shared history. And sometimes that shared history is so precious – these people who know our backstory and love us all the more for it. It's who we are, we complex people. There is this amazing combination of joy, guilt, responsibility, love, togetherness, and mystery all woven together in our family trees. I'm thankful for learning how to deconstruct some of those things, set boundaries and expectations, and at the same time thankful for the freedom from boundaries and rules and expectations that this shared history and gene pool can provide.
My grandma used to remark that "blood is thicker than water" and that's partially true, but in adopting a daughter (who I couldn't love more fully if she had been born to me) and, through the beauty of open adoption, a whole extended family through her, I'm learning that our family unit is created in a lot of different ways, and I'm to give thanks for all of them.
When Dan & I were just us, before a beautiful daughter joined our family photo, it was sometimes hard to consider ourselves a family. But we were. The two of us had joined names and lives and had become, for better or for worse, a new family unit. He was the first family I chose to permanently belong to. And though we are just a small family of three now, our wee family gives thanks for family that we continue to choose: those friends we share our table with and call 'extended family'. This remarkable thing happened when we adopted our daughter – others adopted us too. They chose us. Oh, so much to give thanks for.
And as our parents age, and Family looks increasingly like seasons of change, I'm learning to give thanks for what we've had as we look ahead to what is to come. Because honestly? I want my parents to be 55 forever, before the years started stealing from us, with just the right amount of energy and wisdom and grace and health and opportunity. I miss my grandparents, and those who came before and set the tone for so much of what I know as family. But those days are long gone now, and the only way I'll get them back is living them with my own daughter, remembering, and celebrating what has been and what is to come. And that's something to really give thanks for, isn't it?
Maybe October won't be so awful after all (even if I've not seen the sun in 5 days).