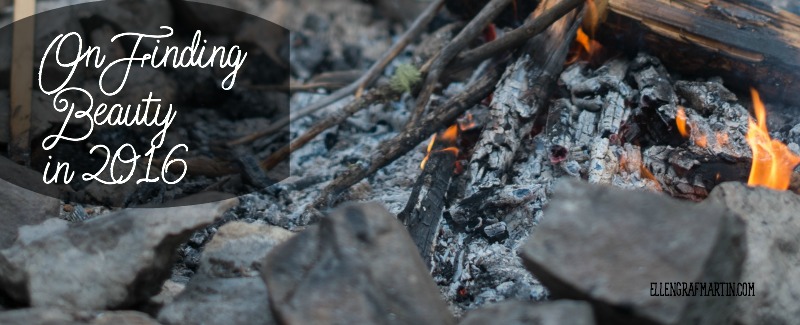 Overall, 2015 hasn't been that bad of a year in our house. In some ways, I felt like I got my groove back. Good things happened at work. Dad survived a surgery that he (apparently) wasn't supposed to. We became a real family when we bought a van. My beloved started a new job. We made new friends. I got back into an in-depth Bible study, which makes my soul feel strong. We had an epic Minnie Mouse birthday party. We went away for a week. We booked a winter vacation. Good things.
Good doesn't necessarily mean easy, however. Good meant making hard choices, being braver than I felt, sitting in a hospital waiting room, making vehicle payments, and cleaning up a giant mess of pink and black polka dotted things.
For some friends, it has been a year of devastatingly hard decisions, multiple losses, unending days in hospital, and walking away from dreams. But in the end, 2015 has been what it has been. No more, no less.
And 2016? It holds promise and hope, and it will also hold hard things. We have such loose control on what will be. So, where does that leave us?
It leaves us just where we are. It leaves us making choices. It leaves us in a place where we can decide to see beauty in our ashes. And I'm not just saying that – we've lived it. Last December, I chose my word of the year for 2015, and I chose beauty. Not because things were particularly beautiful at that time. Our family had just faced a cancer diagnosis, we'd walked through terrifying critical illness with our baby girl, and I was worn out and weary. But beauty was my word. I wrote a letter to my sweet girl about it.  In the midst of it all, I chose my word and I splashed paint on a canvas and spelled beauty across it's width.
When you choose to see it, the beauty is there, right in the middle of those ashes.
See the Beauty
...That you'll see joy. That you'll wear praise. And oh, friend, that you'll be planted, rooted, strong and growing as a display of glorious splendour...
Years ago, my beloved and I landed on a verse, and knew it was ours: "They will be called oaks of righteousness, a planting of the Lord for the display of His splendor." (
Isaiah 61:3b
) We had built a marriage out of making hard choices, we started a business out of bankruptcy, because we believed that God was establishing us – planting us – as oaks for the display of His goodness and glory.
But the first part of that verse? Part A? It tells us that first comes grief, mourning, despair. And then – the very goodness of God is displayed in the most remarkable of transactions: exchanging the ashes we hold for a crown of beauty.
The beauty may not look like what we think it should or come when we are determined it should. The beauty may be far more messy and challenging than we imagined. But it's there, friend.
I've been thinking a lot about courageous choices lately, and I think that believing that the beauty is coming when we're growing deep, or that the beauty has already come, might just be one of the most courageous choices we can make.
2016 will not be perfect. It will hold all the normal things that the fullness of a year with imperfect circumstances holds. What I'm praying for you, though, is that you'll have eyes to see the beauty. That you'll see joy. That you'll wear praise. And oh, friend, that you'll be planted, rooted, strong and growing as a display of glorious splendour.