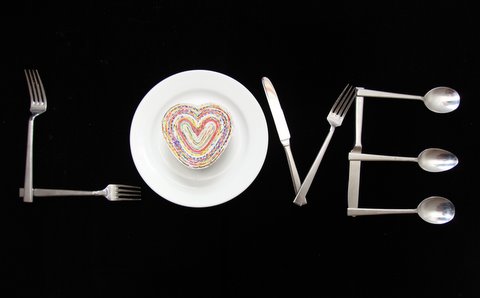 When we welcomed our Sweet Girl home, we chose a name for her. Not a new first name, but a new middle name. Our Girl's first name means "Small & Mighty", and oh, she is. We wanted to choose a name for her that would be just right – part of the enfolding her into our family. We chose Susanna – it just happened to be the name of my great grandmother and my beloved's great grandmother too.
It wasn't at all by chance that we chose our Girl's name. Susanna means graceful lily, and it also means joy. Oh, how fitting. How much this sweet one has brought beautiful joy – she is our gift of joy. In the Bible, Susanna was one of the first women to follow Jesus – she walked with him and was one of the first to experience the resurrection. May this be exactly where she lands up – strong and risk-taking like her great-great-grandmother, and living as a grace-filled, beautiful, joyful, day-in, day-out authentic follower of Jesus.
There is another thing that I pray is carried forward with this name. If I've learned anything from working with the Mennonite Girls, it's that, like carrying on names, sharing recipes, cooking and breaking bread brings generations of families together in beautiful ways.
I grew up hearing stories of how my father's family had fled during the Russian Revolution, lost everything, and started again across North America. I was also raised on my Great Grandma Susanna's chicken and rice. It's a recipe that, family history says, came with her from Russia to the Canadian prairies and was a Sunday staple in our home. I never knew my Great Grandmother, but, having eaten her food over my lifetime I feel that in a way I do. Hearing that my version of Russian Cotleta & mushroom sauce tastes just like Great Grandma Susanna's, humbles and honours me.
For a family who lost almost everything material, these recipes carry their stories forward. Today it's comfort food to nourish my own wee family. I don't know if I chop onions the same way as my great grandmother did, but this food that reminds me that I have a heritage. That my life, my daughter's life, and the lives of those who came before me had meaning and impact.
In recognition of our heritage and the very Graf-like sharing of food to not just nourish the body but also as an expression of love, here is our comfort food recipe! Feel free to make it your own – it has likely had many variations over the last century of being shared. It's easy-peasy for a weekend meal – which means that you can actually enjoy your family. I say that is a lovely way to build new memories on the foundation of family history!
Grandma Susanna's Chicken & Rice
2 cups uncooked rice
14 – 16 allspice berries
1 large onion, diced
4 c. chicken stock OR 2 bouillion cubes and 4 c. boiling water (for some reason, the bouillion version can be tastier)
2 – 4 lbs of chicken pieces, bone-in, skin-on – extra fat removed (or 2 chickens, cut up. Sweet Girl especially likes this with chicken thighs. They get so tender.)
Seasoned Salt
Pepper
Preheat oven to 375 F. Lightly grease a large baking dish (I use a stoneware roaster that is 9" x 13" x 3". Combine the rice, allspice berries, onion and chicken stock into the pan. Place chicken pieces evenly around the pan, on top of the rice mixture. Sprinkle generously with seasoned salt & pepper. Cover with tinfoil, shiny side down, and bake for 1 hour. After an hour, remove the tin foil so that the chicken can brown – approx. 45 minutes. The water should have fully evaporated & the chicken should be golden brown – and hopefully you've got some yummy crispy rice around the edges of the pan – they're what we all want in our house. Oh, and don't eat the allspice berries. They should be discarded when you eat. If you accidentally eat one, you'll know why.
Ellen