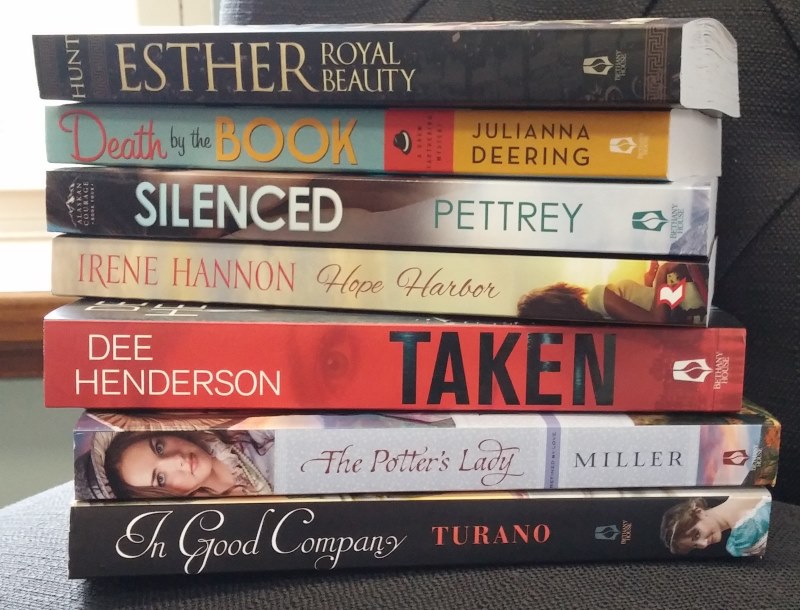 So, let's continue a tradition, you and I. Last summer, I declared the "Summer of Awesomeness" because we had a fairly miserable, difficult winter. Because I'm part bookworm, part of what makes a summer awesome is having space, time and a quiet sunny spot to read, read, read (and gummy bears).
I've been reading some fun fiction this summer and I want to share it with you! I've got a goodie box stuffed with eight excellent new books (valued at over $100) – and if you're the commenter who is randomly chosen, it will be coming your way at the end of next week, just in time for end of summer reading or Labour Day weekend retreats.
You have to know, I'm so excited about this, because it's like introducing you to my friends. I can't wait to see who wins!
To enter, just comment at the end of this post telling me what's been awesome about your summer.
Included you'll find:
Esther by Angela Hunt – I'm a total sucker for Biblical fiction, and thought that Angela's treatment of Queen Esther was beautifully done, while not over-romanticizing the story.
A Love Like Ours by Becky Wade – I gave away Becky Wade's book last year as well – and this new one is a good, satisfying contemporary romance read. With a sweet setting and complex storyline, I think it's perfect for a summer Sunday afternoon.
Death by the Book by Juliana Deering – This is a such a quirky, fun murder mystery. Characters just kept dying off, and the plot twist had me guessing till the end.
Hope Harbor by Irene Hannon – I love, love, love Irene Hannon's writing. Seriously. This book absolutely did not disappoint, and made me want to run away to live in Oregon on a cranberry farm. You'll get it once you read it. Trust me.
Taken by Dee Henderson – I'm a huge Dee Henderson fan, and love suspense, but find it hard to sleep at night after reading some books – but not Dee Henderson. She's masterful at weaving together suspense, compassion, believable characters and innovative storylines. Taken looks at the life of a woman who was abducted and returns to real life. SO good.
Submerged by Dani Pettrey – I met Dani Pettrey in June, and was so glad to meet the woman behind some of the best suspense titles I'd read in recent years! Her characters are smart, strong and compelling, and this Alaska series was so well done that I could picture myself there! (Silenced – book 4 – is in the picture, but you'll get Submerged, book 1 in the series so you can start at the beginning!)
The Potter's Lady by Judith Miller – Judith Miller is a prolific writer, and excels at historical romance fiction. This is next on my reading list – maybe we can read along together!
In Good Company by Jen Turano – Funny & clever describes Turano's writing well. I loved the sweet-hearted, bumbling nanny Millie, and was disturbed by her equally nasty nemesis. I hope you have fun with this – it's kind of like a large glass of really refreshing iced tea.
So – tell me, how are you making your summer awesome?
*Due date for entry is midnight Thursday, Aug 20th (ET)
*With apologies to my international friends, I can only ship within Canada.