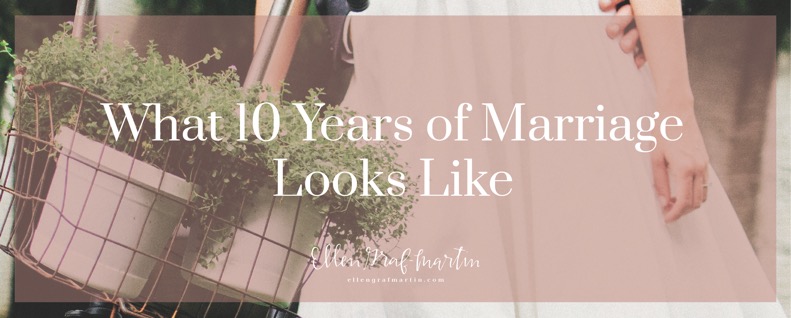 When we got married, on a cold, sunny, snowy Saturday ten years ago, (you can read the story about it here), our tenth anniversary seemed like it may as well be one hundred years away – I couldn't fathom it. February 16, 2008 was a banner day. Then, all of a sudden, ten years passed by.
And ten years in, I still feel so new at this marriage thing. Like I've figured out only a small piece of a giant puzzle, and will need one hundred years to actually know what I'm doing. To know how to love this man and live out those things we promised each other:
Vowing to be faithful to and honest with each other; to respect, trust, help, and care for one another; to share our lives one with the other; to forgive as we have been forgiven; and to try better to understand ourselves, the world, and God; through the best and worst of what is to come, and as long as we live.
Ten years of marriage looks like we've just started.
I'm still learning how to live out those vows of faithfulness, and stumbling through how to be honest and still be kind. I'm still learning how to respect a man who is so differently wired than me. I'm still learning how to help and care for this man I love.
Ten years of marriage also looks scarily fast, and like we're going to blink and be at 50 years, should we be given that privilege.
So, I'm trying to learn how to forgive as I've been forgiven – wholeheartedly, casting sins into the deepest ocean, and it's hard, because, well, iron may sharpen iron, but it's still annoying sometimes.
And ten years in? I still need to ask God to make me the spouse my husband needs. It's the prayer I landed on when I was single, and it's just as true now. It's hard though, because my self-centred heart can sometimes be fearful. Afraid that he won't ask God to make him the spouse that I need. And that fear drives self-protection, which is exactly what my marriage doesn't need. The temptation to not trust my heart to another – even ten years in, with a decade of proof that I'm crazy wrong to not trust this good man – is still there.
Ten years of marriage looks like learning to love, and trust, and still needing to be shaped and re-shaped.
Our ten years have been full. We've walked through a lot of joy, some deep pain, the loss of jobs, the start of new jobs, the loss of a parent, making friends, losing friends, learning how to be friends, becoming parents, almost losing our child, parenting an extraordinary kiddo with some extraordinary needs, the loss of dreams, the birth and realization of dreams, building a business, changing churches, seeing ministry expand, seeing mistakes and failures, and good choices and successes. We've moved from a red sports car to a very large minivan. We've had seasons of rest, but more often, seasons of pressing in. We've had to learn how to set boundaries, choosing what is best, and what works for our family. Our ten years have not been boring, friend. We have had to choose to do these together, as a united force, and, for the most part, we have. I don't know that I could have done any one of these things without my best friend and partner for life. In none of these areas are we perfect – in fact, it's so often the opposite, but we're aiming to be good in them. Those promises we made about trying to better understand ourselves and the world and God, through all circumstances, they're real, friend.
Ten years of marriage looks like still trying to figure it out, and realizing there is still so much to learn.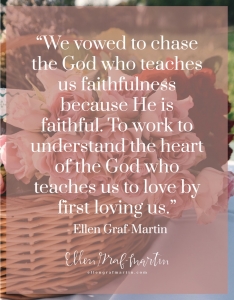 My dad used to joke (in a #jokingnotjoking way ) that in our family there is no return-policy. He reminded Dan often that I was under new management (a typical my-Dad joke) and that he was it. There is no return-policy in our marriage vows, friend. There is that faithfulness – holding our vows to each other as binding and sacred. We didn't vow to honour and obey – we vowed to be faithful. It strikes me now that we never actually promised to love each other in our vows – but we vowed those things that build and strengthen love. We vowed real love, assuming and knowing that the "starter love" was already there.
We vowed to chase the God who teaches us faithfulness because He is faithful. To work to understand the heart of the God who teaches us to love by first loving us. The God who shows up, who gives rest, who gives joy. The God who is the same yesterday, today and forever.
Ten years of marriage looks like faithfulness.
I do love that man of mine. He's a good one. God knew what He was doing when He gave us each other and made us into a family. I can't imagine – and don't want to – ever being married to someone else. He's my forever. I'm learning how to be grateful for him. For what he does and who he is, giving thanks in all circumstances, the best and the worst, even when I'm tired or frustrated or mad, not just when I'm on holidays and deliriously happy.
Ten years of marriage looks like choosing to live out love, live loved and live out the promises we made on day one of our marriage.
Here's to many more years of learning, sharing, caring, helping, forgiving, growing, and living out love with faithfulness, giving thanks in all circumstances, while the days are long and the years are short, as long as we both live.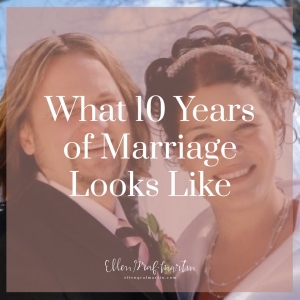 Let me not to the marriage of true minds
Admit impediments. Love is not love
Which alters when it alteration finds,
Or bends with the remover to remove:
O no! it is an ever-fixed mark
That looks on tempests and is never shaken;
It is the star to every wandering bark,
Whose worth's unknown, although his height be taken.
~ William Shakespeare, from Sonnet CXVI